Details
POWER POUR
FUEL ADDITIVE
Fuel limitations within the UK street legal Drag Racing class (Street Eliminator) only allowed the use of commercially available unleaded pump fuel, but do allow the use of fuel additives.
Unleaded fuels present a problem with the cylinder pressures, high RPM's, boost and nitrous volumes associated with today's racing engines. This results in having to limit compression ratio's and ignition timing and thus limits performance. Jon Webster experienced problems along these lines whilst using commercially available addiitives in his nitrous injected big block Ford Mustang. Jon was already planning a change to a turbo combination and could only see the problem worsening with the new combination.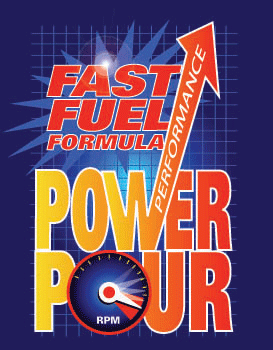 To try and solve these problems Jon commissioned a highly respected chemist in the Petro-Chemical industry to design an additive that was free of both lead and propylene oxide that would enable commercially available unleaded pump fuel to be run at the high cylinder pressures associated with forced induction road and race engines.
Initial tests were carried out in 2002 using Jon's nitrous injected 525ci Mustang, the results were as follows;
| | | | | | | |
| --- | --- | --- | --- | --- | --- | --- |
| Fuel | Additive | C/R | Timing | MPH | Nitrous | Comments |
| Optimax | Other 2% | 10.5 : 1 | 22 deg | 141 | 150hp | More timing = Detonation |
| Optimax | Power Pour 2% | 10.5 : 1 | 30 deg | 144 | 150hp | No Detonation |
| Optimax | Power Pour 2% | 10.5 : 1 | 33 deg | 146 | 150hp | No Detonation |
| Optimax | Power Pour 2% | 10.5 : 1 | 28 deg | 148 | 200hp | No Detonation |
You may also be interested in the following product(s)